Sights & Activities
Pension Location
The pension is located in western Bohemia at the foot of the Ore Mountains just 2 kilometres from the centre of the world famous spa town of Karlovy Vary, which hosts the well-known international film festival in July every year. The pension is situated at a quiet, almost solitary location on a hill above the spa town. ¨
The famed spa triangle may boast a number of tourist-attractive sites and historical landmarks. A true gem is the marvellously preserved Loket Castle, which is only 10km away, or the amazing chateaus in Bečov nad Teplou (23km) and Klášterec nad Ohří (33km).
The district of Karlovy Vary is renowned not only for its spas and mineral springs but also for a vast number of beautiful natural sites and sceneries. Nestled in the valley of the Teplá River, the spa town is surrounded by woods with dozens of kilometres of well-maintained and comfortable paths that offer breathtaking views.
The Boží Dar peat bogs, the area of Kladská near Mariánské Lázně, or the SOOS National Nature Reserve in the district of Cheb all contribute to the diverse natural beauty of this distinct region of the Czech Republic.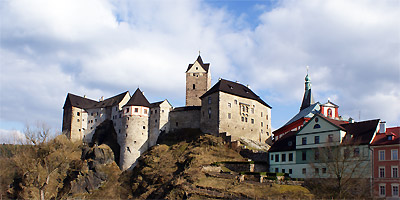 Sports Activities in the Surroundings
All sports-oriented facilities and complexes are located within a distance of 3 kilometres. They include, for example, an outdoor swimming pool, a winter stadium, natural parks, cycle paths, golf courses, etc.
Surrounded by the Ore Mountains on one side and the Slavkov Forest on the other side, the entire area of the West Bohemian spa triangle is ideal for hiking and bicycle enthusiasts. The region offers countless kilometres of marked bicycle paths and those keen on white water sports and rafting will undoubtedly enjoy the poetic natural landscape along the upper stream of the Ohře River.
The Region of Karlovy Vary is also known for its superb golf courses. The nearest are the golf course in Cihelny in Karlovy Vary (10km) or the renowned golf course in Olšová Vrata (10km).
Additional sports and leisure activities available in the pension surroundings include horse riding (500m), indoor tennis courts in Karlovy Vary (2km), or the largest water reservoir with the longest water slide in the country, which is ideal for swimming, water sports and offers numerous boat rental facilities. The reservoir is located at the edge of Sokolov, which is only 15 kilometres away.